Development:

Dr Laghari is actively involved in development activities in Pakistan.

He has recommended to the Government to construct a Medical Clinic / Dispensary and a Transport Shelter at Village Buxo Laghari in Hyderabad District at a cost of Rs. 2,326,000.

He is also concerned about the state of affairs in the constituency of his residence in Karachi. The law and order system is far from satisfactory. The city is ridden with water shortage problems and regular load shedding. The roads and the transport systems are in shambles. The sewerage and garbage disposal system needs major improvements. Dr Laghari has voiced these concern in the Senate floor and in the Senate Standing Committees.

Education:

Dr. Laghari is an academic at heart. He is concerned about the state of education, both in schools and universities, in Pakistan.

He is actively involved in the educational affairs of the country. He has raised many concerns on the Senate floor and has recommended an increase in the lower education budget so that the literacy rate of Pakistan can be substantially increased.

Dr Laghari believes in liberal education and supports the secularization of the syllabus. He is a strong proponent of education for girls and women, particulary from the underdeveloped areas.

Dr Laghari goal is that Pakistani universities join the ranks of leading universities in Asia. He has already achieved this goal by making SZABIST among the top universities in Asia as ranked by BusinessWeek, AsiaInc, Time and CNN.

Energy and Power:

Pakistan faces a tremendous challenge in overcoming its power and energy shortage. The consumption of electricity is generally regarded as an index of economic prosperity. The present per capita electricity consumption in Pakistan is about one tenth of world average. The current state of affairs in the energy sector is highly unsatisfactory. Pakistan needs additionally at least 8000 MWs by 2010 to meet the energy requirements of the people. Dr Laghari through his active participation in the PPP Policy Planning Committee, PPP Manifesto Committee and the Senate Standing Committee on Power and Water is making efforts to ensure that the Energy Crisis in Pakistan is resolved and the country is on its way to rapid industrialization through availability of abundance cheap and reliable electric power.

Environment:

Dr Laghari is interested in Environmental Protection. He is an active supporter of the The Climate Project (www.theclimateproject.org) and educates students against the growing crisis of global warming.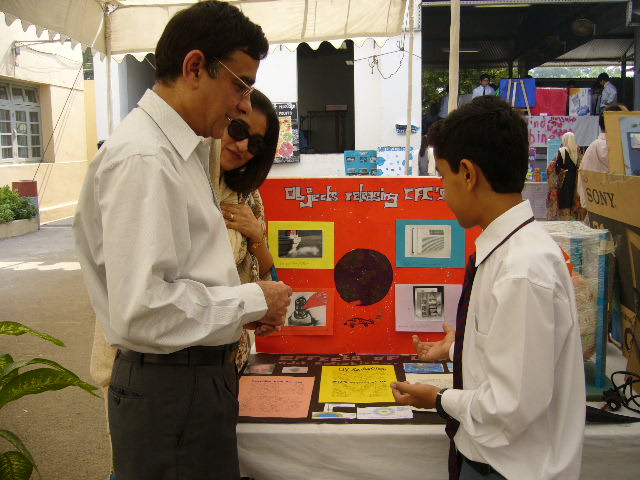 Dr. Laghari at the Science Exhibition at the Karachi Grammar School viewing a project on environment